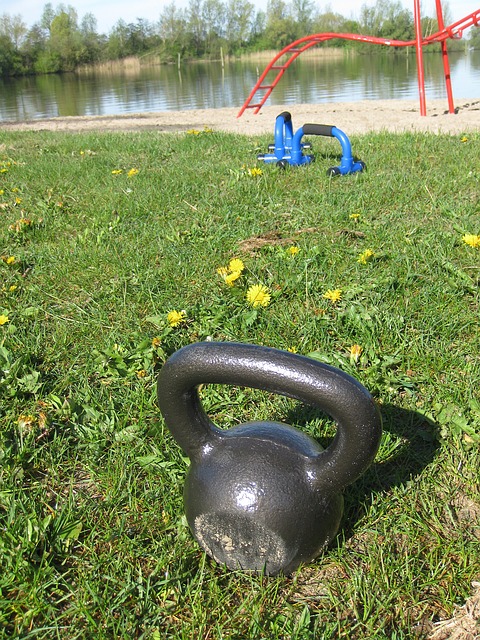 Metabolic Resistance Training (MRT) is one of the best strategies for building muscle, burning fat, and improving overall physical fitness… all at the same time.
The essence of the method is packing more exercise into less time. So we're doing "big muscle" movements like squatting, rows and presses (kettlebells are perfect for this). We're doing mid-range rep counts (no more than 10) with minimal rest between sets (10 seconds works well). And we're training at high levels of effort – so while I'm not a fan of taking sets to total failure, we're getting a couple reps away.
Let's give it a try. Do as many reps as you can of each exercise in the circuit below in 30 seconds. Rest for 10 seconds between moves. Rest for 60 seconds between rounds. Do 4 rounds total:
1 – 1-arm KB swing (beginner/intermediate) KB snatch (intermediate/advance) (15 seconds per side)
2 – push ups with alternating shoulder taps (knees / hands elevated or standard)
3 – KB tactical lunge (30 seconds per side – 60 seconds total)
4 – pull up OR recline row OR 1-arm KB row 15 secs per side
5 – jump rope skips OR jumping jacks OR shuttle sprints OR high knees in place
#
THANK YOU to everyone who has expressed interest in our custom kettlebell program design. I am still working on getting back to the hundreds of replies we received, appreciate your patience!
We have also heard back from some that they would love to do the program, but the price point (range of $150-$200 / month) is a bit high for them right now. Which is very understandable.
For all of these folks, I've recommended that they check out our upcoming 28-day kettlebell MRT Challenge. No, the program is not 100% customized for you. And you're not going to get my personal, individual attention on tracking each workout. But it's a solid-designed program, you can ask us questions on how to modify for your needs, you have daily check ins in a private group for accountability, and the cost is about 1/9 of the custom program design.
If you're interested, keep an eye out, we'll be opening registration for that in the next couple of days.
Have a great one, and talk soon!
Forest Vance
KettlebellBasics.net
PS – If you are interested in our custom kettlebell program design service, we still have 3 spots left.
We take into account:
Your injury history
Your equipment availability
Time you have available to complete your workouts
Your specific goals and needs
When we put together your custom workout plan…
…AND, we hold you accountable to getting it done.
Click this link, enter your info, and we'll send you all the details: https://bit.ly/forestvancecustomprograms