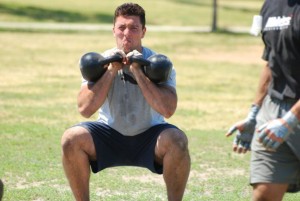 If you're a meathead at heart … if your chief fitness pursuit is muscle size and strength at the expense of everything else … kettlebells may not be the best training implement for you.
On the other hand, if you're looking to get lean and strong, to build strength without bulk … if you're looking to gain lean muscle in your shoulders and arms, to trim and tone your stomach … then kettlebell training may be right up your alley.
In this article, I'm going to go over some common fitness goals men have, explain how working out with kettlebells can help you reach those goals more effectively and efficiently, and then outline a new and unique kettlebell workout for men.
Goals
Here's a short list of some common fitness goals men have:
Add lean muscle in the shoulders and arms
"All around fitness" – maintain the ability to do things like run a couple of miles or play a game of pick-up basketball at any time
Strengthen the lower body without bulking it up
Feel great and be healthy
Benefits
Here's how kettlebell training can help you reach the above listed fitness goals:
Kettlebells build strength and endurance with unique high-repetition exercises like the swing and snatch.
Kettlebells allow you to train both aerobically and anaerobically within a single workout, therefore allowing you to develop both cardiovascular and strength enhancements.
Kettlebells can help you build increased strength without increase of mass. Kettlebell exercisers are lean and toned, not bulky.
Kettlebell Workout For Men
Based on what we've discussed so far, here's a sample kettlebell workout for men:
(warm up)
slingshots
close grip push ups
These two exercises done at a low intensity will get your upper body warmed up and involve the core and lower body a bit, too. Perform two sets of each exercise, doing as many reps as you can in 30 seconds for each working set.
(main workout)
One Arm Rack Squat – 8 reps R, 8 reps L
Renegade Row – 6 reps ea side
Turkish Get Up – 1 rep ea side
These three exercises hit your upper body and abs in a unique way.  Perform each exercise for the prescribed number of reps, rest for 30 seconds, and then move to the next exercise in the sequence.  Perform a total of three sets of each exercise.
(conditioning finisher)
Swings – two hand, one hand, or hand-to-hand – 100 as fast as possible
Quick finisher to end the workout strong!
In conclusion, if your main fitness goals are to put on size and strength, kettlebells may not be the best fitness tool for you.  On the other hand, if you're looking to gain lean muscle and shoot your conditioning through the roof, try this kettlebell workout for men!
Train hard and talk soon –
Forest Vance, MS, CPT, RKC II
P.S. Make sure to sign up for my newlsetter and get your free Beginner's Guide to Kettlebell Training … just drop your best email and name into the box at the upper right of the page to grab it now.
P.P.S.  Some additional kettlebell workouts for men resources:
Premium Kettlebell Workouts Mega-Bundle
Men's Kettlebell, Book & DVD Quick Start Pack