Hey! Hope you're having an awesome weekend.  Forest here back with another expert interview for you from KettlebellBasics.net.
Today with us we have Kate Vidulich.  I've gotten to know Kate now for the last several months, and met her in person a month or so ago at a industry event … she's a super cool person and has some great ideas about fat loss, specifically losing those last 10 pounds with what she calls "metabolic mashups" (these utilize KB's, body weight, dumbbells and barbells as primary training tools, BTW) … I knew her ideas would be of great interest to my readers, so I was pumped when she agreed to do an interview for KettlebellBasics.net.
A little more about Kate before we get to the full interview –
Kate is an experienced Exercise Physiologist and Certified ACSM Health Fitness Specialist with a passion for excellence. Kate has an extensive research background, completing a Bachelor of Science degree in Health & Exercise Science from the University of NSW in Sydney, Australia.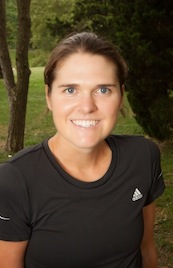 Kate specializes in designing and implementing personalized, effective, results-oriented training programs. Her unique approach, combining movement rehabilitation and fat loss, has helped thousands of people across the world achieve their goals, at all ages.
A resident of New York City, Kate operates in the Upper East Side of Manhattan and consults with clients in private one-on-one, and online coaching with clients worldwide.
She is the author of the Fat Loss Accelerators program, and also regularly updates her blog at FatLossAccelerators.com.
Without further ado, Kate –
1. What first drove you to create the Fat Loss Accelerators program?
The evolution of the idea to share Fat Loss Accelerators with the world struck me one afternoon while I was training in a small, crowded New York gym. It was so insanely busy, and I was tired of being pushed out of the space. I just needed a fast, challenging workout to do with limited equipment, in a small area.
The idea for the program had been right in front of me the whole time! I had been using and testing unique metabolic movements for a few years, and getting results with my clients and myself. So I knew there would be other folks in the world who would totally benefit from this and love it!
2. What exactly is your fitness program/philosophy/etc. all about?
My training philosophy is pretty simple. In order to get fit and build an athletic body, you need to work hard based on your current ability. When you progress and succeed, the confidence you gain from training transfers into other aspects of your life. What you initially thought was impossible – is now possible.
I like to focus on training movement patterns, using major muscle groups to burn the maximum number of calories in your workout time. People love a challenge and it's always great to add a fun element to your training program – otherwise you simply won't do it!
I think there are so many excellent training approaches, with industry leaders such as Alwyn & Rachel Cosgrove, Craig Ballantyne, Mike Boyle and so many others to list. Instead of trying to compete with these programs, the idea of Fat Loss Accelerators is to add-on to their fantastic work. So I created done-for-you intense workouts that you can plug into your program to accelerate fat loss results.
3. You have a unique and inspiring approach to busting through fitness plateaus that I think appeals to a lot of folks. What exercise methods have you studied and how do they influence your work?
Thanks Forest! I'm always studying different training methods, because you can always learn and pick up ideas from other disciplines.
I worked on a University research project back in Sydney, Australia studying the effectiveness of high intensity interval training for fat loss in women. The results were a major breakthrough in our field, and this has significantly influenced my training approach.
My workouts are intense and challenging. Think resistance training meets high intensity intervals. The unique metabolic movements in my workouts can help you save time in your training sessions, maximize your calorie expenditure and eliminate the need for cardio.
I bring a new, challenging approach for the people who would otherwise jump on a treadmill/bike and do sprints.
4. What type of results have individuals experienced with your program/workouts/etc.? Could you provide a few examples?
The results and feedback from my clients has been incredible. I have a core bunch of clients I been training for over 3 years now, so it's been very interesting to see the body transformations with my experiments and shift in training style over time. I find it more effective to focus on athletic goals and aesthetic results are a bonus!
My favorite example is a female client who is 62 years old, trains really hard and is currently in better shape than a lot of 30 year olds going around. After achieving her initial weight loss goal of 20 pounds, we shifted the focus to performance goals. Initially, Nancy couldn't run at all, and now she can run a mile in less than 10 minutes! Plus, she gets so many compliments on how amazing her arms look. I agree – they look incredible!
A 38 year old female client who refused to do any cardio or even go to the gym lost 31 pounds over 6 months. She set up a home gym with weights in her apartment, shifted her mindset and decided to kick butt in every workout. Really impressive change!
Another example is myself. I lost 41 pounds using these insane workouts and in 2011, I beat my previous year NYC marathon time by 54 minutes. This year, I shaved 8 minutes off my best half marathon time.
Awesome, right! See you at the next Olympics 😉
5. Would you be kind enough to provide a sample workout or two for my readers to try out at home?
Absolutely Forest! For best results, use a Fat Loss Accelerators at the beginning of your workout before strength training– after a dynamic warm up and core work Replace your interval days with Fat Loss Accelerators, and reduce the stress involved with thinking and planning.
The first one is a bodyweight only workout, so there is no excuse. Try it!
Accelerator 2
Equipment Options – Bodyweight only
Perform each of the following in order with no rest. Continue the series for a total of 5 minutes. Rest for 90 seconds and then repeat twice:
A) Walk outs x 5
B) T Push Ups x 5
C) Mountain Climbers x 5
D) Jump Squats x 5
Accelerator 27
Equipment Options – Dumbbells / Kettlebells
Choose a weight you can lift overhead for 10 reps. Perform each of the following in order with no rest, and without putting the weight down. At the end of the circuit, rest for 90 seconds. Repeat for 4 rounds:
A) Alternating Lunge to Overhead Reach x 6
B) Squat thrust to Deadlift x 6
C) Front Squats to Push Press x 6
D) Push Up to Renegade Row x 6
You can find both of these in 31 Fat Loss Accelerators, done-for-you workouts that you can simply plug into your current program. Yes, you don't have to start again.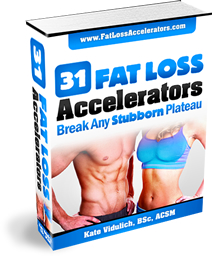 Grab your very own copy of Fat Loss Accelerators here
These are intense, targeted workouts that involve the strategic use of compounding, hybrid exercises to maximize fat burning and training time to break through plateaus.
Cheers to kicking butt!
Kate
********************
Thanks again, Kate. That was an awesome interview.
Enjoy the rest of your weekend, and talk soon –
Forest
PS – To learn more about Kate's full program for using Fat Loss Accelerator Circuits to bust your fat loss plateau, click here