Kettlebells are awesome.
Sprinting is awesome.
In today's article from my friend Mike Whitfield of Sprint Conditioning, he puts them TOGETHER into one killer workout – to create what COULD be be the best "hybrid" kettlebell conditioning workout EVER!
Enjoy –
– Forest
###
The BEST KB Hybrid Workout EVER?
by Mike Whitfield, author, Sprint Conditioning
It was a beautiful 73-degree sunny day in Kennesaw, Georgia.
There was a field.
There was a kettlebell.
And I wanted to do something cool about that.
Hey, I'm Mike Whitfield, Master CTT and a friend of Forest Vance. We both have a similar story on losing fat and helping others do the same (but without having to live in the gym).
Of course, unlike Forest, I never played football in my life … except Madden on the Playstation (ha!). But here is a photo of where I was and where I'm at now: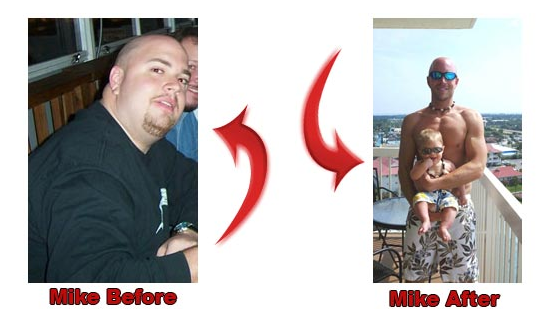 Hey, if I can do this, ANYONE can.
So, let's start with a quick quiz … what are 2 of the most powerful conditioning "tools" to help you shed fat and get in the best shape of your life faster than anything else?
If you're guessing "Sprints" as one – you are right.
Sprints demand a lot both from your nervous system and your muscles, so in order to recover from them, your body has to work harder. During this recovery, your body utilizes fat as fuel.
To get the most out of sprints, they must be done in a very short amount of time with strategic recovery periods.
It's definitely the fastest (but NOT the easiest) way to lose fat.
Today, you're going to combine the power of sprints with a single kettlebell.
If it's beautiful outside, get some vitamin D and do this outdoors.
Here's the plan:
— Use a kettlebell as your marker.
— Sprint 10 – 20 yards
— Once you reach the marker (KB), do 10 KB Swings.
— Your recovery is walking back to the starting point.
— Do this for 10 minutes. Rest more if needed – but remember, it's only 10 minutes!
See how it works here:
Note – If you're not a sprinter, you can do:
a) Jumping Jacks (10-15 as fast as possible)
b) Run in Place (10 secs – go HARD!)
What an awesome way to burn more fat in less time… and yes, you can even train like an athlete!
Have fun,
Mike Whitfield, Master CTT
Grab 31 MORE sprint conditioning workouts like this one here
###
Wow, awesome stuff Mike.  Thanks so much for sharing with FVT readers!
One more thing.  I am throwing in my OWN bonus program – the Mud Runner's Manual – FREE, when you pick up a copy of Mike's Sprint Conditioning through my recommendation this week, while it's on sale.
Inside, you'll learn little-known methods of:
— Total body strengthening – get strong and tough enough to beat any obstacle
— Building functional muscle – you'll build strength that not only looks good but works great too
— Increasing flexibility and mobility – qualities you'll need to stay injury free on race day
— Improving cardio endurance – a KEY component of performing at a high level at your event
— Improving mental toughness – maybe the most important quality of all at your mud run
— Getting you stronger, faster, and more athletic!
Again, you'll get this FREE when you grab a copy of Mike's Sprint Conditioning system on my recommendation.
Just grab your copy of Sprint Conditioning HERE (or from any other link in this post), forward your email receipt to my assistant at fvtraininfo (at) gmail.com, and she'll get you hooked up with your bonus!