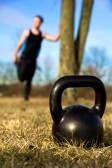 I must say, I was a bit surprised at the response I got to the email I sent out yesterday on my friend Dr. Dan Ritchie's program, "The Functional Fitness Solution" (an at – home training program designed for folks in the 50 to 70 age range).
And it got me to thinking – most of the kettlebell routines I've created over the years are geared towards intermediate or even advanced kettlebell enthusiasts. And they are fantastic – provided that you are ready for them.
BUT – the problem is, sometimes folks are NOT ready for them … but they do them anyway. Then, they end up doing way too much, too soon … at BEST they don't get all they could out of their kettlebell workouts, and at worst get a little (or a lot) injured … and they end up giving up a swearing off kettlebells all together. And that is not good!
SO, I thought it would be good timing to share a kettlebell workout I created specifically for older adults. (This is actually from my Lifetime Kettlebell Fitness program – which you can get FREE when you pick up a copy of The Functional Fitness Solution through my recommendation.)
Now, don't underestimate the how powerful this workout is, just because it is simple. And also, this is actually week FOUR of the Lifetime Kettlebell Fitness program, so ideally you would work UP to this amount of volume of 1/2 get ups and deadlifts/swings slowly and progressively over a several week period.
Let's get to it!
Kettlebell Workout for Older Adults (50+)
from Lifetime Kettlebell Fitness, FREE bonus this week with The Functional Fitness Solution
Warm Up
– Box Squat – 10-15 repetitions
– Hamstring/Hip Flexor Stretch Combo
Perform these two exercises back-to-back without rest; repeat the pair of warm-up movements twice without rest
Workout
– swing progression (sumo deadlift – 1/2 swing – full swing) – 15-20
– 'Active Rest'- :30
– ½ OR foot sweep Turkish get up – 3 reps ea side
– 'Active Rest'- :30
Continue this sequence non-stop for 18 minutes
Cool Down
5 minutes of static stretching – tight muscle groups only
Kettlebells are a fantastic training tool for ALL age groups. But you have to know how to use them correctly, and "scale up" appropriately to the intensity level that is right for you. This workout is an example of a great way to do that.
Keep training hard –
– Forest Vance, MS, RKC II, Certified Corrective Exercise Specialist
PS – When you pick up a copy of Dr. Dan's Functional Fitness Solution program this week, I am going to hook you up with a FREE copy of Lifetime Kettlebell Fitness.
Inside Lifetime Kettlebell Fitness, you'll discover how to use kettlebells to lose weight, tone up, improve your posture, move freely and gain overall fitness.
Learn:
– A three minute body weight and kettlebell dynamic warm up that'll have you feeling great and ready for your workout faster than you ever thought possible … and a complete extended warm up for those times you're in extra need of pre-workout prep
– Unique progressions for traditional kettlebell exercises that'll help you master them in a whole new way – like the 'face-away-from-wall kettlebell sumo deadlift' and the 'foot switch Turkish get-up'
– A complete workout system to take you from KB newb to HardStyle master
– Answers to common hang ups and solutions the majority of kettlebell training beginners have
– And much more!!
** VERY IMPORTANT – I will get a list from Dan of all the folks who buy his program through my link when the current promotion is over. NO NEED to send us your Clickbank reciept.
BUT … you MUST purchase his program through THIS LINK – or any other one in this email – to qualify for the bonus. Thanks! **his email – to qualify for the bonus. Thanks! **