THANK YOU again so much for all the well wishes on our new addition to the Vance family!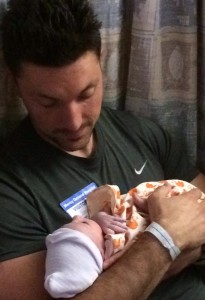 We welcomed a new baby girl into the world last week, and it's been crazy but SO awesome and amazing.
I am off from the gym for a couple of weeks, staying home to help my wife out. We just got home a few days ago, and there is just SO much to figure out with a newborn child, especially it being our first … when it comes to just living your daily life 🙂
NOT sleeping a lot, I can tell you that … but even just stuff like eating and showering takes thought and planning and strategizing!
The first few days were so crazy, just trying to survive really … and still are 😉 … but now that we are getting into a semblance of a routine, it's time to get back to hitting some kind of workouts.
I am going to be focusing on short (around 20 minutes), total body, minimal equipment workouts to get it done.  And while you may not have a newborn child at home, I bet this style of training might interest you and your training needs and goals as well.
Here's a LIGHTNING quick, SUPER efficient, minimal equipment workout that I'm currently doing, that you can use when YOU are short on time but want a great workout.
20 Minute Total Body KB/BW/Suspension Workout
Inspired by Suspension Revolution 2.0
— start with 3 min foam rolling / joint mobility / total body general warm up
Pair 1 – 3 rounds, as little rest as possible:
– single arm KB swing – 7 ea arm
– suspension trainer atomic push up – 8
(rest 60 seconds)
Pair 2 – 3 rounds, as little rest as possible:
– bottoms – up KB press – 6 ea side
– suspension trainer single leg squat – 8 ea side
(rest 60 seconds)
To finish – 4 rounds, as fast as little rest as possible:
– suspension trainer burpee w push up – 6 (switch foot in cradle ea rep)
– KB squat clean – 8
– 30 jumping jacks
There you have an INTENSE, 20 minute workout you can knock out using nothing but a kettlebell and a suspension trainer. At the end of the day, it's about balance in life … and pretty much no matter what you got going on, you OWE it to yourself and your loved ones to take care of yourself mentally and physically and keep up with your workouts. ANYONE can take 15-20 minutes three to five times per week and train. Now it's just a matter of making it happen!
Train hard, and talk soon –
Forest Vance, MS, RKC II
PS – IF you're into suspension training – whether you're just getting started and learning the basics, or you want some crazy advanced stuff to take you to the next level – check out my friend Dan Long's Suspension Revolution program. It's on sale this week, and it's an AWESOME resource for learning how to do this RIGHT. It includes 191 exercises, 20 follow along workouts, and a TON more. I highly recommend it. Check it out here:
=> Suspension Revolution 2.0 (on sale this week)
Dan has trained pro athletes and REALLY knows his stuff … besides being a SUPER high energy  and a really great guy.  I was super impressed when we first met in Vegas last year and then earlier this year in So Cal.  Be sure to check out his Suspension Revolution program, on sale this week.