This Saturday, I am doing a Spartan Race with a group that we put together from FVT. We have been training hard together for the last eight weeks for the event, and I'm very much looking forward to it!
That being said, this may be my last participating in an event that involves running any distace for a while. I may very well be "retiring" from obstacle course racing.
You see – one of the big reasons my football career got cut short was because of problems with one of my knees. I had two surgeries on it in a six month time span. And my doc basically told me that I shouldn't be running for any kind of distance – EVER.
The thing is, I really enjoy getting outside and training – so I basically ignored his advice 🙂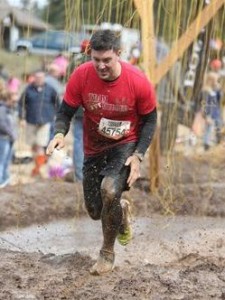 This was ten years ago – and in that time, I've done numberous 5k's, 10k's, sprint and Olympic distance triathlons, and Tough Mudders … but anytime that I do any sort of running any distance regularly, my knee just absolutely blows up.
So after this race, the plan is going to be to stick to hiking biking and some sprinting – but no distance running.
The other big thing I'm going to rely on to stay in top condition is kettlebell training. In a recent study, KB swings were shown to burn 20.2 calories per minute sponsored by the American Council on Exercise (ACE).
(For sake of comparision, using an online calculator I just found on SparkPeople.com, a 150 pound person burns 10.1 calories per minute running at a 10 minute mile pace – so the calorie burn from the KB swings is off the charts!)
Plus, if you know how to do swings with safe and effective technique, they're a lot easier on the body than running, too.
Check out one of my favorite kettlebell workouts for fat loss, below:
#
Burpee – Squat – Swing KB Challenge Workout
*Men use a 24k 'bell, women a 16k
1 burpee
2 goblet squats
3 swings
THEN
2 burpees
4 goblet squats
6 swings
THEN
3 burpees
6 goblet squats
9 swings
CONTINUE in the same fashion … increasing reps on the burpees by 1, goblet squats by 2, and swings by 3, each set … until you get to 10 burpees, 20 goblet squats, and 30 swings … and complete the full workout as fast as possible.
#
Whether you are in the same place that I am when it comes to running … or you just want to incorporate another cool training tool into your fat loss plan … I believe that KETTLEBELLS are THE way to go, when it comes to fat loss.
And if you liked this workout, stay tuned, because we have another FVT KBs for Fat Loss Challenge opening for registration … tomorrow!
Train hard, talk soon –
– Forest Vance
Certified Kettlebell Instructor
ForestVance.com