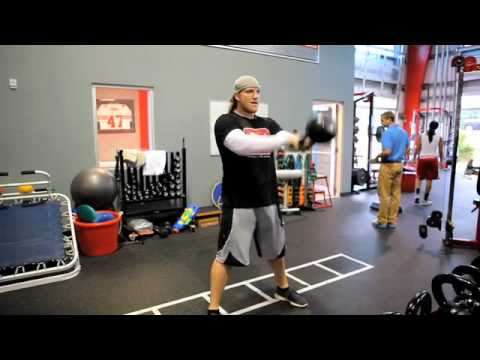 According to Yahoo.com, Super Bowl Sunday marks the day that Americans chow the second-greatest amount of food – second only to Thanksgiving.
You could stay strong, and watch your friends and family eat all the foods you love, while you sit in the corner chewing on a stick of celery …
OR … you could do the UPDATED and ALL NEW version of my Super Bowl Mega-Calorie Burning Workout … and feel okay about enjoying some of the foods you love on the big day!!
*Side note – No Gym? No Excuse! was published not long after the end of my pro football career … the resistance training portion of today's workout is from the program … if you pick up a copy and read the book, I think you'll see the influence of the training I did as an athlete.
#
Forest Vance 1100 Calorie Super Bowl Workout 2.0
1 – 15 minute dynamic warm up – joint mobility, self myofascial release, dynamic stretching – check out this article if you need more details (approx 100 calories burned)
2 – Resistance Training (from No Gym? No Excuse!) (approx 400 calories burned) – The following pairs of exercises are to be done as circuits: do A1, go immediately to A2 without resting, rest for about 30 seconds, and repeat. Repeat this pattern for all three pairs:
A1. KB squat – three sets, 8 reps
A2. Inverted Row – three sets, 12 reps
B1. Push-up – three sets, 10 reps
B2. KB swing – three sets, 15 reps
C1. KB Press – three sets, 6 reps / side
C2. Lunge – three sets, 10 sets / side
3 – Run 5k – 3.2 miles – at a medium (6 mph) pace (approx 500 calories burned)
If you are not into running, you could also do about 35 minutes of medium-to-high intensity biking, swimming, rowing, etc.
4 – Finish with 15 minutes of stretching / core work / yoga poses / etc (approx 100 calories burned):
Carve out about 90 minutes tomorrow morning before the big game to do this workout, and you can feel a-okay about the extra kcals you consume later in the day 😉
May your favorite team win –
– Forest
PS – In case you missed it, my original flagship training system, No Gym? No Excuse!, is on sale this week. Get your copy at 70% off while it's just $10: