If you are looking to gain kettlebell pressing strength, the ladder approach is one of the best.
Pavel Tsatsouline taught us this technique and the approach in detail at the first RKC that I went to in 2009.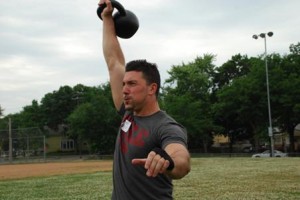 I have used it since it in my kettlebell strength – based programs (like the KB Strong – 28 Day Challenge, starting Dec 4th, details below) with great success.
It will help you to make huge strength gains in a short period of time!
Here's an example:
#
KB STRONG – Ladder Workout
1 – PRESSING LADDER
KB Presses – Do four ladders up to 3 reps each.
(M suggested weight = 35 to 53 pounds; W suggested weight 18 to 35 pounds)
The pressing ladders will look like this:
C+P right
C+P left
clean, 2 presses right
clean, 2 presses left
clean, 3 presses right
clean, 3 presses left
2 – BURNER – set your timer for 12 minutes, get as many rounds as possible!
3 pull ups (use band assist if needed, OR do 9 inverted rows)
5 dips (use low bars and foot assistance if needed)
7 push ups (knees OR toes)
9 two hand KB swings
#
Do you ever notice how good you feel after a great KB workout?
Just imagine what you will feel and look like 28 days from now – when the KB STRONG Challenge is complete – with your new, strong, slender, powerful body.
If you are interested, we are still looking for 10-15 more people to join us.
If you are looking to take your kettlebell workouts to the next level, get the best results, maybe even get in the best shape ever! – this is going to be a perfect fit.
We are going to focus on getting you stronger and in better shape in this Challenge, by using some special methods to help you:
– Do more / heavier KB swings
– Do more / heavier KB presses
And more.
And as a RESULT … by focusing on getting stronger and performing better in your workouts … you are going to get into awesome shape at the same time
If you are interested, here is all we need from you:
1 – Double check that you meet the requirements
– You need at least 2 KBs (8k or 12k and 12k or 16k for women; 12k or 16k and 20k or 24k for men)
– You need to be able to commit to training for 20-30 minutes, 3 days per week for the next 28 days
– You need to be committed to giving it your best and making an honest effort
2 – Reply to this message in the comments, and let us know:
– What your big fitness goals are for 2018
– WHY you would be a good fit, and why we should pick you for this Challenge
If it looks like it's a good fit, we will reply back to you personally with all the details and how to sign up.
Again, we only have 10-15 more spots left, as we limit these Challenges to give you lots of personal attention, and about 18 of the spots are already taken … so get back with us ASAP if you are interested, and we will hook you up with the details on how it works and how to sign up!
Thanks for taking the time, and we look forward to hearing from you! –
– Forest Vance and the FVT Team
ForestVance.com (personal blog)
Kettlebell Basics (Facebook)