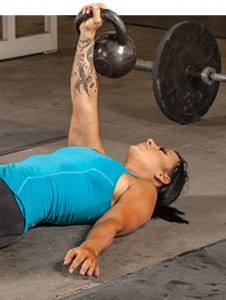 EMOM (which stands for every minute on the minute) is a type of interval workout where you perform a specific task at the start of every minute for a set amount of time.
One cool thing about them is that they remove much of the thinking from a training session; the clock decides when you'll be working and when you'll be resting.
They are also a great tool for measuring progress from week to week; you can see if the time you're taking to complete the prescribed movements is going down, and/or if the rest period you end up getting is going up.
Take today's workout for example:
#
15 min kettlebell-bodyweight EMOM workout
Set your timer for 60 second intervals. Perform the prescribed number of reps of each exercise at the start of each 60 second interval. Your rest period is the time between when you complete your work set, and the next 60 second interval starts. Do five rounds of the circuit below, sticking with this same work / rest structure (workout should take 15 minutes total):
MINUTE 1 – 20 KB swings (24k men / 16k women)
MINUTE 2 – 15 push ups
MINUTE 3 – 8 burpees
MINUTE 4 – 20 KB swings (24k men / 16k women)
… continue and repeat for 15 minutes!
#
If you liked this workout, you should check out our upcoming 42 Day KB Shred Challenge.
You'll use a structured, unique, highly challenging kettlebell-based training plan to:
– Get strength and conditioning results that show up in body transformation
– Lose belly fat
– Be mobile and strong enough to help with the activities they most enjoy
You'll get specific kettlebell and bodyweight – based workouts to follow each day. These tell you exactly what to do and how to do it, very detailed, with video demos, etc.
I give you a copy of my "Feed the Beast" diet plan – includes a full 18 meal plans, with 'general balanced', paleo, and vegetarian versions to pick from – so that there are options for almost ANYone, and so that you know exactly what to eat and when to eat it to get the results.
We have a private FB group for all folks in the Challenge – you check in after every workout, get feedback, accountability and support. (THIS is the game-changer BTW, and is what makes this program DIFFERENT from all the others out there.)
Details on the Challenge and grab your spot at the link below:
To your success!
– Forest Vance, MS
Certified Kettlebell Instructor
ForestVance.com