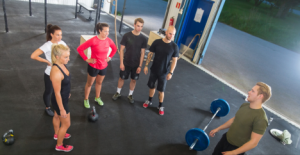 We are just a couple of weeks away from the start of what is the busiest time of the year in fitness.
The Holiday season will be over, and everyone will be ready to get back on track, and into their regular routine.
So for the next few days, we are going to focus on content and training materials for fitness professionals.
(Don't worry – we'll have useful content for non-fit pro, hardcore kettlebell fans too!)
I'll be hooking you up with sample kettlebell boot camp workouts, like the one today, from my CORE Kettlebell 2.0 System …
… as well as professional development resources for trainers and coaches, like my Strength Coach Business course …
… and possibly even info on how to package up your fitness knowledge, and take it online (like my 30 Day Product Creation Challenge).
Let's start with today's Kettlebell Boot Camp Workout:
#
Kettlebell Boot Camp Workout
CORE Kettlebell System 2.0
(warm up)
Do the following circuits twice, no rest between circuits. Each exercise
should be done for 30 seconds:
– Easy shuttle run
– Slow bear crawl
– Ring rows
– Jump squats
(main workout)
Complete 3 rounds of all moves, work 1 minute at each station. Allow 20 seconds to transition between stations, rest 1 minute between rounds:
– KB Goblet squat
– KB swing
– Burpee Broad Jump
– KB 1 arm press (30 secs per side)
– High knees
(finisher)
Do the following circuit as many times as possible in 4 minutes, resting only when needed:
– 5 inchworms
– 12 1 arm KB rows per side
– 5 spiderman climbers per side
#
Trainers and coaches – plug this workout in, and use it with your clients for better results and more referrals.
Hardcore kettlebell fans – do it yourself, it's a real challenge!
Get the complete CORE Kettlebell System 2.0 here
And stay tuned for more great content to come during "Fit Pros Week" at FVT!
– Forest Vance
Master of Science, Human Movement
Owner and President, FVT Boot Camp and Personal Training
Owner and President, FVT Worldwide
ForestVance.com