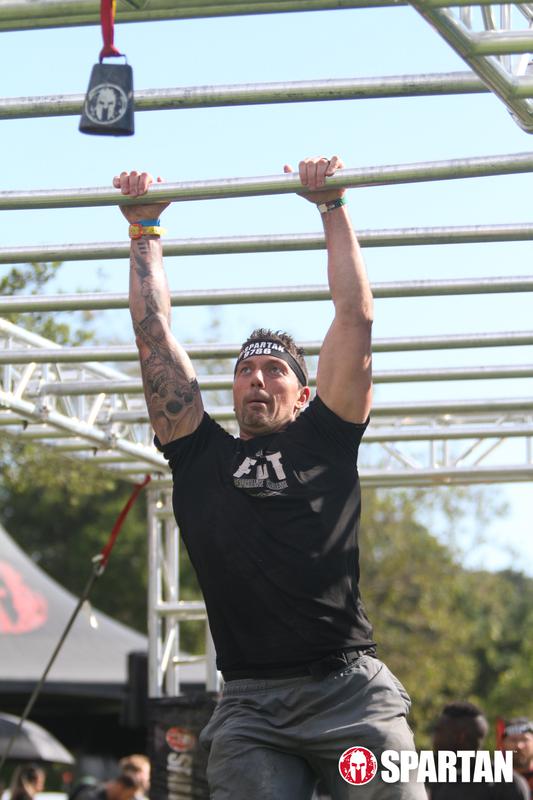 I successfully completed my 10th Spartan Race last weekend!
And I can say, without a doubt, that it was my best performance to date when it came to the obstacles.
I was able to successfully complete several that I never have before, including the multi-rig (it's made up of rings and bars and you kind of swing from one thing to the next, American Ninja Warrior – style).
So I've been trying to look back, and think about WHY (so that I can replicate my effort for next time!) …
… and while I'm sure there were several contributing factors …  the consistent kettlebell training I did leading up to the event I think was one of the biggest ones.
Typically, I ramp up the running and scale back on the KBs for a month or two (or more) beforehand. I never stop with the kettlebells completely, but I cut back for sure.
This time, I trained hard with Kettlebell Challenge Workout – style sessions right up 'till the week before.
Sounds weird, but many people talk about the WTH (what the heck) effect from kettlebell training.
Meaning, training with kettlebells consistently will improve other, almost seemingly unrelated areas of fitness … and you'll run faster or jump higher, and end up saying to yourself – "what the heck!" 🙂
The sort of awkward shape of the kettlebells I think is a big contributing factor to this athletic carry-over. As well as the thick handles that strengthen your grip. And much more.
Bottom line though, if you are looking to lose fat AND improve performance in a variety of areas of your life, I suggest that you start on the program linked below today:
And I look forward to hearing your success story! –
– Forest Vance, ForestVance.com