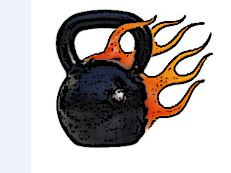 I have a new kettlebell workout for you this week … but first, a quick story:
This story is about a client I've trained for just over two years.  Over the time she's worked with me, she's lost over 20 pounds … and more importantly has completely changed her body.  She's lost fat, gained lean muscle, and looks fantastic.
The interesting thing is that when we first started training, she hated kettlebells!  I couldn't talk her into doing a Swing workout if her life depended on it …
The workout from this week is a lot like the ones I've used with her to 'turn her on' to the idea of training with KB's … it's a fast-paced, fat loss – oriented workout that 'sneaks in' some kettlebell moves throughout.
So whether you're a hard-core KB lifter or still getting 'warmed up' to the idea of giving 'em a try, I think you'll enjoy this one …
Kettlebell Bodyweight Circuit Workout
Enjoy!
Forest
P.S. Like this workout?  Find more like it here —->> Kettlebell Basics Premium Workout Series