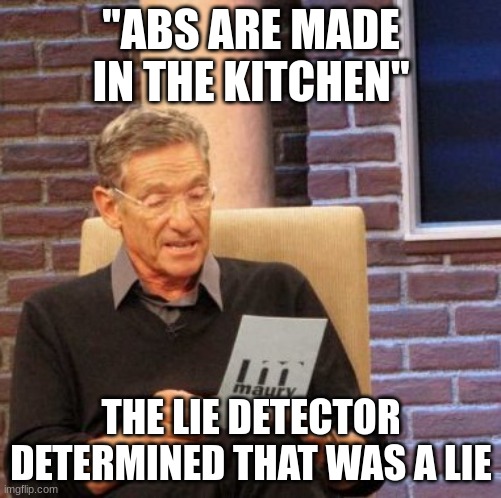 Have you ever heard the phrase "abs are made in the kitchen"?
I disagree!
Here's the thing:
If you are 30% body fat, you are NOT going to see your abs, no matter how strong they are.
HOWEVER – it is a LIE that you need to be 7% body fat to see your abs!
Most men can be between 12-14%, and women 18-20%, and can see some decent abs definition. So you DO need to be reasonably lean, and have a solid, clean diet… but you need to ACTUALLY TRAIN your abs!
You need to your abs using real exercises, with progressive resistance, like you do for other body parts.
You might be doing things like:
Turkish get ups and variations
Leg raises and varations
Planking and variations
Anti-rotational moves (think renegade rows, one arm swings) and variations
You'd be doing these moves for medium rep ranges (5-12), using reasonably heavy and progressive amounts of resistance.
NOT 10,000 crunches and sit ups.
You wouldn't do sets of 100 for other body parts; why do people do it for their abs?!?
This is exactly how I structure training plans for my personal clients who want abs, and it's exactly what what we do in my KETTLEBELL ABOCALYPSE course.
Learn more and order KETTLEBELL ABOCALYPSE at the link below:
–> KETTLEBELL ABOCALYPSE – new KBs for abs training plan
And remember – we determined that the phrase "abs are made in the kitchen" is a lie!
Forest Vance @ KettlebellBasics.net