Do you follow me on Instagram? If not, you should!
-> https://www.instagram.com/forestvance/
We have just recently been working on ramping things up over there, and have been a lot more active on the page over the last couple of months. I am posting KB workouts, videos with technique tips, and more most every day of the week.
Watch the video that shows you how to do today's workout and follow me at the link below:
-> https://www.instagram.com/forestvance/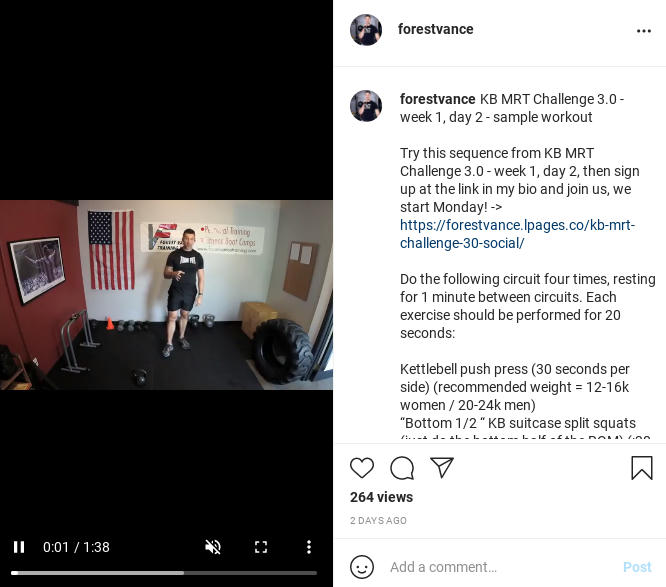 KB MRT Challenge 3.0 – week 1, day 2 – sample workout
Do the following circuit four times, resting for 1 minute between circuits. Each exercise should be performed for 20 seconds:
— Kettlebell push press (30 seconds per side) (recommended weight = 12-16k women / 20-24k men)
— "Bottom 1/2 " KB suitcase split squats (just do the bottom half of the ROM) (:30 per side) (recommended weight = 8-12k women / 16-20k men)
— Cross-Body Mountain Climber + push ups
— Jumping jacks
#
If you want to join the 28-day KB MRT Challenge 3.0, details are on the sign up page linked below:
-> 28-day KB MRT Challenge 3.0
This is a 28-day "jump start" to help you lean down, tighten up the muscles, and kick start your kettlebell training results!
There is a lot of interaction and coaching and encouragement that we do along the way. You're not doing the workouts just on your own, you're doing them with both me and the rest of the Challengers.
The actual workouts are based around the Metabolic Resistance Training concept – which I go into more detail on HERE – but the main idea is that it involves stacking multiple heavier, compound exercises together to create an oxygen debt. You end up burning a ton of calories – during the session, AND for the rest of the day – plus you're able to build lean muscle, all at the same time.
I do a written version of all the workouts, plus videos breaking down how to do all the moves, going over common questions with the workouts, that sort of thing.
I also have two bonus training programs that you get – my "10×10 Rapid Fat Loss Meal Plan" so that you can be sure to get the best possible results from the kettlebell workouts! – and my "Extreme Bodyweight Cardio Conditioning" course where you get extra cardio you can do on your kettlebell "off" days to also take your results to the next level.
We start today, Monday, May 10th – so check it out and sign up now if you want in:
-> 28-day KB MRT Challenge 3.0
Have a great day, and talk soon! –
– Forest