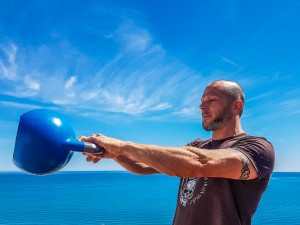 Did you know that you can get a solid workout in just 4 minutes?
It's true.
Here's the thing though – there is an inverse relationship between intensity and volume.
And this must be respected if you are going to get a high quality workout in a short amount of time.
For example.
I am running a fairly long endurance event this weekend – the Spartan Ultra Beast in Lake Tahoe, CA.
It's the longest I've ever personally done by a long shot. 30.7 miles, 9400 feet of elevation gain, 70 obstacles.
So if I come out hot, going too hard out of the gate, I'm going to be in trouble.
I'm going to be working at a lower intensity, maintaining the pace I know that I'll be able to last the whole +/- 12 hours that I expect the race to take.
On the other hand.
If I'm going to do a kettlebell workout in 4 minutes …
… like we're doing in the 28 Day Kettlebell HIIT Challenge, starting this coming Monday the 30th …
… it needs to be INTENSE.
I need to be at, or close to, my max, to get benefit.
This is exactly what Dr. Izumi Tabata did in his original study on HIIT training (we talked about that study in yesterday's message .. I'll link it up below if you missed it).
So here's an example:
4 Min KB Workout
1 – WARM UP – do three rounds of:
– Easy sequence of bodyweight movements, working the whole body through all major patterns at an easy pace – five to ten minutes
2 – MAIN WORKOUT – do as many reps as you can in :20 of each exercise. Rest for :10 between moves. Do 8 rounds total:
– KB squat-to-press (right side)
– KB snatch (right side)
– KB squat-to-press (left side)
– KB snatch (right side)
3 – OPTIONAL FINISHER – Only got four minutes? No problem – roll with the main workout only. If you want more – do as many reps as you can in :20, rest for :10 between bouts, do 8 rounds total of:
– Burpees
4 – COOL DOWN
– Yoga flow / static stretch – five to ten minutes
#
Make sense?
Think about that point – the inverse relationship between volume and intensity – at your workouts moving forward … and how the shorter the workout, generally speaking, you need to have a higher intensity.
Join our Challenge for more short, effective workouts and a full 28 day plan you can do any time, any place with a single kettlebell, here:
And have a great day!
– Forest
PS – If you missed yesterday's article, check it out below:
http://forestvance.com/2019/09/how-do-you-do-a-tabata-workout/