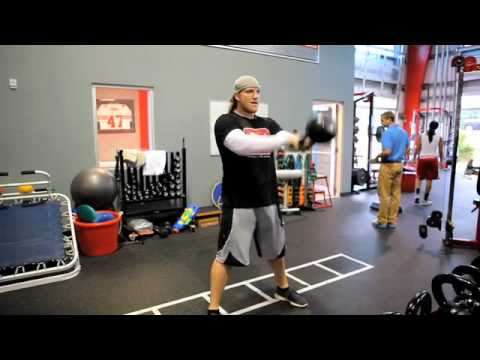 Maybe you work out by yourself, but you want to check your form during kettlebell moves.
What to do?
Short of getting coached directly, the best tool for the job is taking video.
Thes days, almost everyone has a phone or other device capable of getting this done quickly and easily.
I've worked with distance coaching clients in North America, Europe, Asia, and Australia – and I'm able to review their technique and progress using this method.
A few tips to get the most out of it:
— When you are training by yourself, you want a set up stable enough for you to trust that it won't fall over while you are lifting. You may need a mini tripod if that's going to be difficult.
— Keep in mind that you probably won't be able to get your full body in the shot, so decide what's the most critical part, and position the camera so you will capture that.
— You can review your form during your training sessions, between sets, to correct as you go. You can also review after the fact if you want to sit down and do a more detailed anyalsis.
If you are going at this on your own, you'll obviously have to know what you are looking for, in terms of what you are doing wrong, and what to correct. I would suggest going searching the blog archives on ForestVance.com, and reviewing the dozens of posts / videos I've done on how to various kettlebell exercises, and/or picking up a copy of one / all of the following courses of mine – Kettlebell Challenge Workouts, Top 13 Kettlebell Training Mistakes – and How to Fix Them!, the CORE Kettlebell System (do a search on ForestVance.com to find info on those).
If you want personal coaching / feedback from me, I am also opening up my distance KB coaching program during this coming week to new clients.
I only do this a few times each year – when spots open up, I only work with 10 clients at any given time – but I currently have a few openings.
Send me an email if you are interested in distance KB coaching with me, with ELITE KB COACHING in the subject line, and we'll go from there.
To sum up, if you work out by yourself, but want to check your form during kettlebell moves, I suggest taking video.  It's what I have all of my Elite Kettlebell Coaching clients do, and it works great. Just use the tips I outline in this article to get the most out of it.
Keep training hard, talk soon! –
– Forest Vance
Master of Science, Human Movement
Certified Kettlebell Instructor
ForestVance.com