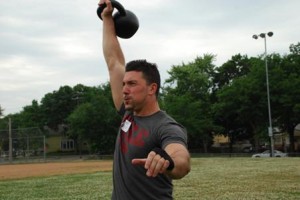 The first two days of every month, we do a Challenge Workout in all of our boot camp sessions at FVT.
These workouts are high intensity, strength-endurance style sessions that are scored in some way … and we repeat each Challenge several times throughout the year, so that folks can see how their fitness level is improving over time.
Check out this 20 minute circuit workout – it's based off of this month's FVT Boot Camp Challenge Workout, but tweaked slightly, so that you can do it in around 20 minutes, with just a single kettlebell.
Enjoy!
– Forest
###
Single KB 20 Minute Circuit Workout
– 10 single arm KB swings / side
– 10 recline rows
– 5 KB presses / side
– 15 box jumps OR bench jumps OR squat jumps
– 12 walking lunges per side
– 7 burpees
– 15 push ups
– 7 hanging knee raises OR hollow rocks
– 30 jumping jacks
Do four rounds as fast as possible.
###
If you liked this workout, you'll LOVE my "Kettlebell Boot Camp Workouts Mega-Bundle" … you'll find my top kettlebell training programs, full video footage from my kettlebell basics workshop, and MUCH more … all at a BIG time discounted price.
But, if you want to take advantage of this special deal, you'll have to act quick – the offer comes down after this week. Check it out and snag your copy at the link below: