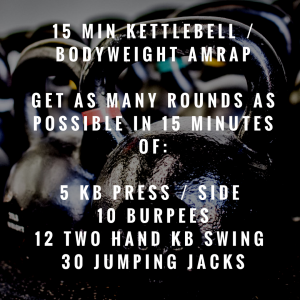 AMRAP stands for "As Many Rounds As Possible" in today's workout.
It's you against the clock!
Give it a try, let us know how you do:
#
15 min Kettlebell / Bodyweight AMRAP
Get as many rounds as possible in 15 mins of:
– 5 KB press / side (recommended weight = 20-24k men / 8-12k women)
– 10 burpees
– 12 two hand KB swing (recommended weight = 24-32k men / 16-20k women)
– 30 jumping jacks
#
If you're looking to lose weight and gain strength, you won't find a better way than this:
But hurry and submit your application, because we get started Monday, July 2nd.
To your success! –
– Forest and the FVT Team