Had such a fun time today at the 1 Year Anniversary Party for our Pocket / Greenhaven studio location!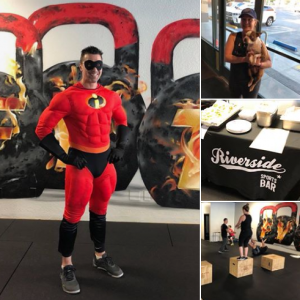 And I want to let you in on a little secret, that not many people know about.
I have a library of around 20 of my all-time favorite training resources that I refer back to time and time again as I program workouts for our gyms.
This way, I'm not "re-inventing the wheel" every time I go to write new workouts for the coming month. I'm using and building off of what I KNOW works for getting our clients into top shape, and getting them RESULTS!
New resources – these are books, ebooks, DVDs, etc – might make their way into the mix, and old ones might get replaced …
… but one program that has stayed in my library for the last 5 or so years is called Challenge Complexes.
It's got workouts like the one below that I refer back to time and time again for finishers to our main workouts, and even building off of for full workouts themselves:
#
16 Min Single KB Challenge Complex
from Challenge Complexes
AMRAP in 16 minutes:
8 1 arm KB row (per side)
8 1 arm KB rack squat (4 reps per side)
8 1 arm KB high pull (per side)
8 burpee
8 KB lunges each leg (hold KB at side during set)
8 push ups
#
Give that one a try.
You can do it any time, any place – all you need is a single kettlebell and 16 minutes.
Get the full Challenge Complex program HERE (use this special link – it's hard to find!)
To your success –
– Forest Vance
Master of Science, Human Movement
Certified Personal Trainer
ForestVance.com