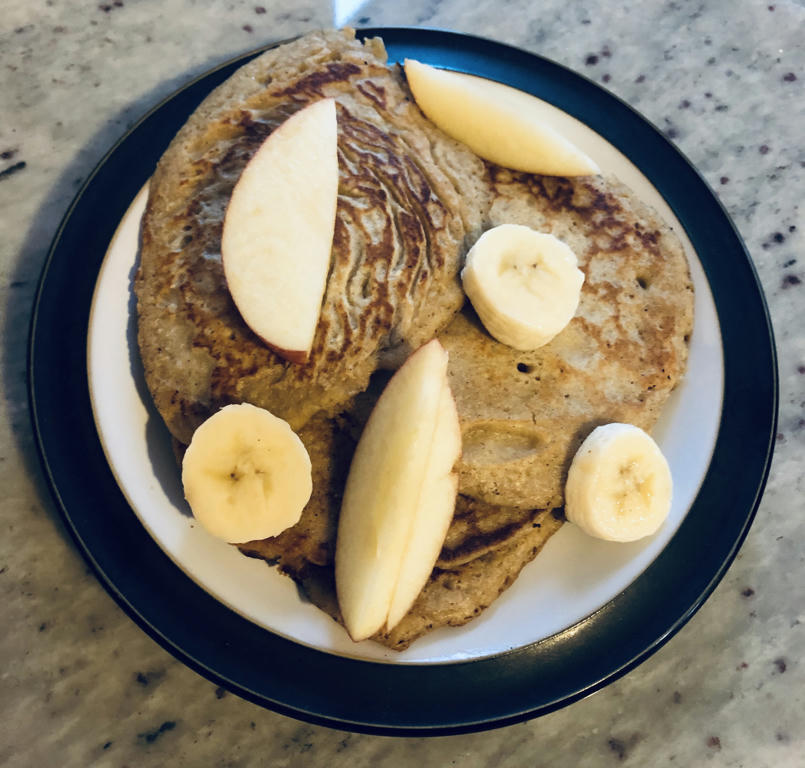 A lot of people think they have to deprive themselves to reach their fitness goals.
And while it's true that you can't just eat whatever you want…
…there absolutely IS a way to eat the foods you enjoy, and still get the fat loss results you desire.
A lot of times, it's just about making some small tweaks to your favorite recipes.
Take these protein oatmeal pancakes for example.
As I write this message, it's New Year's Day 2021!
We just finished a big family breakfast, and now we're all resting for a few before heading out for a walk.
So figured I'd take a second to share this receipe.
I made these pancakes and, as usual, it was a hit!
And, it was a healthy and nutritious breakfast for everyone to start the day:
#
Protein Oatmeal Pancakes
1 cup oatmeal (dry)
1/4 cup 1% milk
1/4 cup greek yogurt
1 tbsp coconut oil
1 egg
1/2 tsp ground cinnamon
1/2 tsp salt
Blend ingredients for about 30 seconds
Measure out 1/4 cup of "batter" for each pancake; makes 4
Nutrition breakdown (for all ingredients / all 4 pancakes):
485 kcals
23 g protein
19 g fat
57g carb
#
In the meal plan you get with my new Kettlebells for Abs program, you get dozens more recipes / meal ideas like this.
You will be surprised at the things you can eat, and still get the results you are looking for.
You'll find ideas for:
Quesadillas
Turkey Sandwiches
Chicken Burritos
Turkey Tacos
Pesto Pasta
And many more!
All fit within the meal plan to get you the abs you desire.
Get the full 28-day KBs for Abs PLUS the "Easiest, Fastest Fat Loss Meal Plan EVER" bonus FREE at the link below:
-> KBs for Abs + "Easiest, Fastest Fat Loss Meal Plan EVER"
…and here's to a great start to your New Year's abs goals!
-Forest and the FVT Team @ KettlebellBasics.net