Here's a list of 'tools of the trade' – these are all products and services that I've personally used that have helped immensely with my kettlebell training.  I'll continue to update this page as I discover more.
Please note: some of the links below are affiliate links that will earn me a commission.  However, I have personal experience will all of these things and recommend them because they're great products from companies I trust, not just because I get a commission for recommending them.
If you're looking to purchase kettlebells, I highly recommend the Dragon Door brand.  They're not the cheapest brand, but they're the best build, best balanced, and highest quality 'bells I've personally used.  This is also the same feeling most of my colleagues hold.
Whether you're keeping track of rest periods between sets, the length of your entire workout, if you're doing as many reps as you can in a pre-determined amount of time, or if you're doing a specific interval method like the Tabata protocol, having a reliable and accurate way to time yourself is essential.
A simple stopwatch is one solution, but it doesn't give you much flexibility and definitely leaves a few features to be desired.  A great solution is the Gymboss Interval Timer.
Click the picture below to order one:


From WikiPedia:
Vibram Five Finger Shoes are a type of minimalist shoe manufactured by Vibram, originally marketed as a more "natural" alternative for different outdoors activities (sailing, kayaking, canoeing, and as a camp or after-hike shoe).  The footwear has thin, flexible soles that are contoured to the shape of the human foot, including visible individual sections for the toes. Vibram FiveFingers are meant to replicate being barefoot and allow for the natural biomechanics of the foot to work.
I personally have a pair of Vibrams that I love and wear for most of my training. Barefoot training does sound glorious and romantic, but what if, for example, you want to train outdoors?  Your first encounter with a sharp object can make you think twice.  And Vibrams are a great solution.  Click the image below to learn more about them:
The best kettlebell instruction around, hands down. An experience that will literally change your life. Three days that test you mentally, physically, and emotionally. Click below for more info:
For those not quite ready for the commitment of the RKC, Dragon Door has also created a new, introductory level one-day certification – the HKC:
Of course, all the books and videos in the world aren't a replacement for qualified instruction – if you're in the Sacramento, CA area, check out my training company's home page at www.forestvancetraining.com. Or, to find an RKC in your area, click the link below:
Unfortunately, elbow pain is a very common problem among kettlebell enthusiasts. Rick Kaselj and Jedd Johnson's Fixing Elbow Pain program provides a great solution … and you can get a special deal on it when you order though this website.  Click the image below to learn more: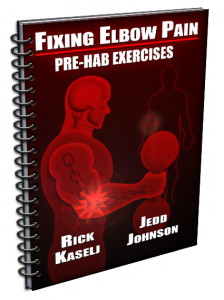 Shoulder pain is another common kettlebell trainee issue.  This program takes a unique "shoulder re-shaping" approach and to fixing your shoulder pain.  Check it out here: