My new Kettlebell Challenge Workouts program is coming very soon … and you can win a free copy!!
It's a "mega-bundle" of more than a dozen kick-a@@ kettlebell challenge workouts you can do any time, any place, with just a single kettlebell and your own body weight, and in 20 minutes or less.  And the full program will be officially available in a few short days …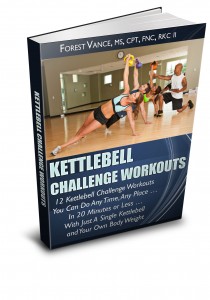 So, as we get the finishing touches of the delivery process ironed out, and as a gesture of appreciation to you, a loyal reader, I've decided to give away two free copies of the program before I officially release it.
All you have to do to win your copy is leave a comment on this post detailing your number one fitness goal … and your biggest obstacle/frustration/etc. that's keeping you from accomplishing it.  I'll have my assistant go through and pick the best two comments so the contest is as fair as possible.  And all I'll ask for is a little feedback from the winners after they've read through the program, watched the videos and tried the workouts themselves.
Leave a comment below to get entered to win … and keep an eye on your e-mail inbox to get first word of the Kettlebell Challenge Workouts program's official release!