You love new, challenging, different workouts to mix things up and change your routine.
Maybe you've hit a training plateau and need something to snap you out of it and take your workouts to the next level.
Or, maybe you're just simply looking for a reason to get excited about your training again!
But your current workouts aren't cutting it. You're bored with doing the same thing. You're not getting great results. And you need some kind of progressive routine that fits together, makes SENSE, and will drive you towards your goals of fat loss and lean muscle gain.
Well … I just put the finishing touches on my new and improved Ultimate Kettlebell Challenge Workouts program … and it's the perfect solution for you!
In this program, you'll find TONS (33 to be exact) of new, fun, and exciting kettlebell challenge workouts to add to your current routine.
These 33 new workouts are organized into a progressive, 8 week training plan designed to help you lose fat, gain lean muscle, and get into great overall condition … without ever repeating the same workout twice.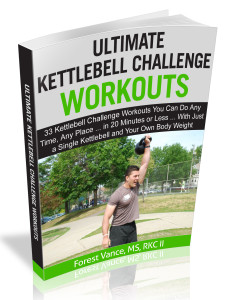 The Ultimate Kettlebell Challenge Workouts program includes workouts like this one (and 32 more):
Workout 12 – Kettlebell and Body Weight Beat Down
Start today with two exercises paired together – the plank and the lunge jump. You'll do four sets total of each, for as many reps as you can in 25 seconds. Rest for about 15 seconds between exercises.
Second pairing is the standard push up and the KB swing – 12 reps of each, as little rest as possible, as many rounds as you can in five minutes.
Now for a killer finisher. You'll do seven reps of each exercise without putting the 'bell down – single arm KB press, KB rack squat, and KB bent row. Then you'll set the KB down, do seven burpees, and repeat the entire sequence a total of four times (two times on each side).
You may or may not know my personal story (you can see the whole thing HERE), but I lost 64 pounds in 7 months shortly after my pro football career ended – and I've managed to keep it off, using a program like this one.
These workouts are designed specifically for YOU if you're looking to lose fat, gain lean muscle, and stay in great shape – using nothing but a kettlebell and your own body weight, training for about 20 minutes 3-4 times per week.
ALSO … almost forgot 😉 … one of the biggest issues folks have with KB training is safety. They want to make sure they're doing the exercises correctly, not only to get the most out of them in terms of results, but to stay safe and avoid injury.
So what I've done is included TWO great resources to teach you how to use kettlebells safely and effectively.
When you pick up your copy of the Ultimate Kettlebell Challenge Workouts program, you'll also get:
1 – The FVT Kettlebell Workshop Videos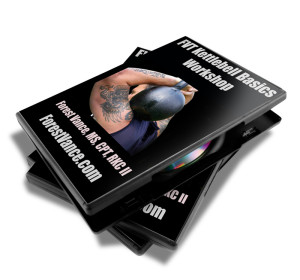 We had a professional film crew come in and film the last Kettlebell Basics workshop we did at my studio. It's literally the closest thing to attending one in-person, without actually being there 😉 These are typically $97-$197 to attend – and we only do them in Sacramento, twice a year.
In these workshop videos, you will get detailed instruction, coaching, cues, technique corrections, drills, and more on ALL the basic kettlebell exercises, including:
— The Deadlift and variations
— The Swing
— The Turkish get up and variations
— The Clean
— The Press and variations
— The squat
— The Snatch and variations
And much more.
2 – The Ultimate Kettlebell Guide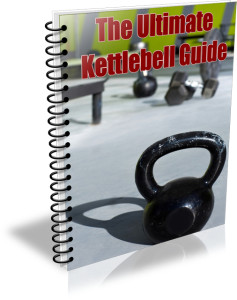 The Ultimate Kettlebell Guide is your fully illustrated guide to 41 different kettlebell exercises.
PLUS, you'll get muscle group illustrations for each movement. There are a TON of kettlebell moves explained in this resource. It's the perfect compliment to the
Ultimate Kettlebell Challenge Workouts package – it's like your own personal kettlebell training encyclopedia!
MAN I am excited about this. It's a complete – no, ULTIMATE 😉 – kettlebell training program for fat loss, lean muscle gain, and overall fitness.
Click the link below and grab your copy now:
=> Ultimate Kettlebell Challenge Workouts + The FVT Kettlebell Workshop Video Series + The Ultimate Kettlebell Guide (on sale now!)
Have a great day, and talk soon –
Forest Vance, MS, RKC II
ForestVance.com