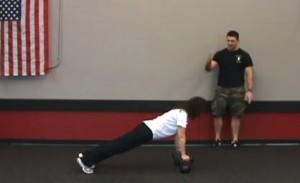 As you may or may not know, I lost 64 pounds in a roughly seven month period immediately after my pro football career came to an end.
Now I hadn't yet discovered kettlebells at this point … but I sure wish that I had.
See, I'm NOT a naturally skinny guy. I have to work hard to not blow up and get fat 🙂  And fortunately, I DID discover KB's shortly after I lost all the weight … and I've never looked back!!
One of the keys to using KB's for maximum fat loss effect is using them in a special way … combining KB exercises into what we call kettlebell combos.  This is a concept that I've talked about a little bit on this blog, but not a lot – so I'm going to do a two part post series explaining it in detail, and showing how you can use KB combos in your own program for accelerated fat loss results.
Kettlebell Combos for Fat Loss
One of the really cool things about kettlebells is that once you learn the basic moves (swing, TGU, squat, clean, press, and snatch), you can combine these moves together into almost infinite combinations.
HOWEVER – part of the secret lies in HOW you put your workouts together. You can't just half-hazardly throw some exercises together expect to get results.
No. You have to carefully design your KB fat loss combo workouts for maximum effect.
Here's a quick sample workout to show you what I'm talking about:
EXTREME Fat Burning KB Combo Workout
(start on the right side; complete reps as prescribed; then repeat on the left side)
straight to
straight to
Once you finish this sequence on BOTH sides – making sure to rest as little as possible – move directly to –
Pull ups OR body rows – max reps minus one
Repeat this combo five times with about sixty seconds of rest between rounds
THEN finish your workout with ten rounds of 30 seconds on/30 seconds off high intensity cardio
In summary, kettlebell combos are an amazing way to lose fat and stay in peak condition.  In this article you have a nice little fat-burning kettlebell combo workout to go after this weekend. I hope it helps … talk soon.
Forest
PS – Would love to hear your thoughts on this workout!  Please post your comments below.
PPS – Keep an eye out for part two of this series coming in the next day or two … I'll have an outline for you of exactly how you'd set up a complete "kettlebells for rapid fat loss" routine yourself.
PPPS – 10/25 update!  The 30 Day Rapid Fat Loss Kettlebell Solution is now available.  Click here to learn more.