Got a cool KB exercise to share with you today that you've probably never done before …
It's called the "Side-Step Kettlebell Swing".
This is an intermediate-to-advanced level move that offers many similar benefits to the standard swing – it develops power and explosiveness, will help you burn fat and take your conditioning to the next level, and much more … BUT it also adds in a little extra "twist" that makes it a fun variation to add to your KB workouts.
Here's how to do it:
1 – Begin with the basic two-handed swing
2 – When the kettlebell is on its way down, put your right foot out and step to the right
3 – When the kettlebell is up, bring your left foot over to meet your right foot, so your feet are together
4 – Continue taking steps to the right as space allows, then change direction and side-step to the left for the same number of repetitions
And here's what the exercise looks like: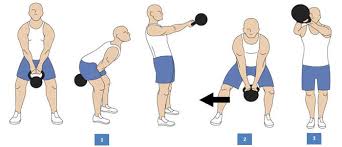 Try that one during your kettlebell workout today, and let me know how it goes!
– Forest Vance
Level 2 Certified Russian Kettlebell Instructor
PS – Everyone is raving about the Ultimate Kettlebell Guide … because it's got fully illustrated guides, like the one I shared with you today, for 41 kettlebell moves like the side-step swing, in addition to sample kettlebell workouts, and a lot more … click HERE to download it now