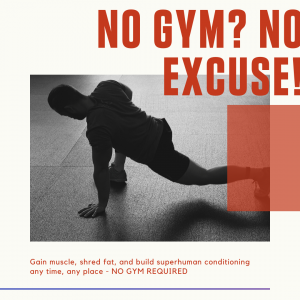 Here is a sample workout from my new, updated and expanded version of No Gym? No Excuse!
No Gym? No Excuse! is a 6 week, bodyweight – based, "kettlebells-optional" workout plan. It will help you gain muscle, shred fat, and build superhuman conditioning any time, any place – NO GYM REQUIRED.
*We have video demos, recommended weights, and more included in the full plan… this sample workout is just to give you an idea
#
Main Circuit – Supersets – Complete both exercise in each superset for the number of rounds listed before moving on to the next superset. Take minimal rest between exercises. Rest approx 30 seconds between rounds.
Superset #1
1 – Around The World Lunge – 5 each leg (forward, side, back = 1 rep). Add an optional kettlebell in goblet position for more intensity.
2 – Renegade Row to Mountain jumper – 10 OR KB Single arm renegade rows – 10 each side OR bodyweight renegade rows – 10 per side Then: Mountain Jumpers – 10
Complete 3 rounds
Superset #2
3 – KB Swing – 20 OR total body extension – 20
4 – Pullups – 6 OR Recline Rows – 12 OR 1 arm rows – 10/side OR if zero equipment – :30 v sit hold
Complete 3 rounds
Finisher – 40 seconds of work, 20 seconds of rest. 3 rounds:
1 – Skater Hops
2 – KB Dead Clean to press OR Frog Jumps
3 – Crab Kicks OR Cross Body Mountain Climbers
#
If you'd like to learn how to build strength, shed fat, and get a REAL workout – using nothing but your own bodyweight and (optionally) a couple of kettlebells…
Check out the NEW and UPDATED version of No Gym? No Excuse! here =>
But hurry – this home study course is on a dime sale, so the price goes up with each person that buys!
Thanks –
– Forest Vance, Master Trainer, Bodyweight Training Specialist, ForestVanceTraining.com