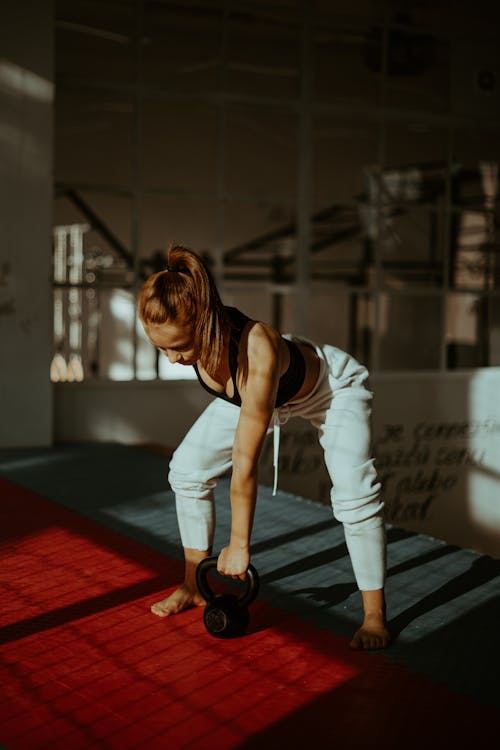 Tabata training works in 20 second intervals of high intensity exercise, followed by 10 seconds of rest, repeated eight times for a total of four minutes.
Because it's so effective for improving performance AND burning max calories in minimum time (see research linked below), we use it frequently in our programming at FVT.
In fact, check out the workout we have planned for our online bodyweight / kettlebell boot camp scheduled for a a little later tonight.
We call it "Royal Flush" because, well – when it comes to jacking up your fat burning furnace, it's tough to beat! 🙂
#
"Royal Flush" KB/BW Tabata Circuit
Perform as many reps of each exercise as you can in 20 seconds. Rest for 10 seconds between moves. Repeat the circuit two times through for a total of eight intervals of 20 seconds on / 10 seconds off. Rest for a minute or two and repeat up to two more times:
1 – KB Tactical Lunge (alternate legs each round)
2 – One arm KB swing (beginner) OR KB snatch (advanced)
3 – Bodyweight renegade (beginner) rows OR KB renegade row (advanced)
4 – One arm press (alternate arms each round)
#
I'm going to test something, and wanted to see if you're interested:
I'm going to invite a group of men and women around the US – and world! – to try the live, real-time online workouts we're offering at FVT, for 14 days.
We've been running these with our local, Sacramento, CA – based clients for the last 6 months or so, since the pandemic hit and we've had to expand our offerings!… but they've been SO helpful… ESPECIALLY for men and women over 40 who are training from home, and who want intense and effective workouts, personalized feedback, and increased accountability…
That I want to see if we can help even more people.
So we're going to test it out.
You'd be able to test the program out for a short time (14 days) at a discounted rate ($49).
No additional charges, no long-term commitments.
Would you be interested in joining us?
Fill out the form below and we'll send you all the details: https://bit.ly/fvttestdrive
-Forest and the FVT Team